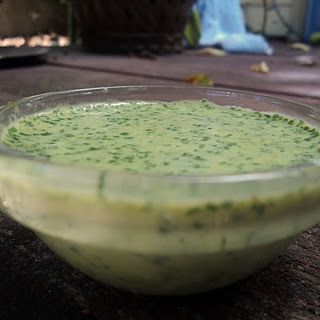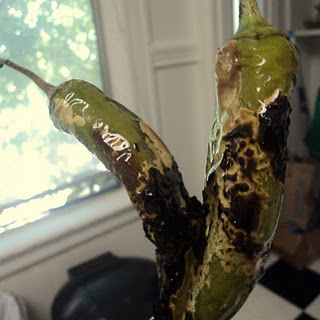 Blue House Farm has absolutely gorgeous, fragrant green Anaheim chili peppers right now. Long, slim and pointy, these peppers are perfect for roasting and offer just a tiny kick.
This easy piquant sauce comes together in just a few minutes and showcase the peppers' tendency to become sweet and tender when roasted, making for a silky-textured condiment that is lovely on eggs, tacos, grilled meats or as a sauce for enchiladas.
Ingredients
4 green Anaheim chili peppers
4 cloves garlic, smashed
1 handful fresh cilantro leaves, roughly chopped
2 tbsp extra virgin olive oil, plus more for chilies
3 tbsp half-and-half
1/2 tsp each salt and pepper

Directions
Preheat broiler to high. Drizzle whole peppers with olive oil and place on a baking sheet. Broil for 7-8 minutes on each side or until skin becomes very soft and lightly charred.
Under cool running water, slip the peppers' skins off (they should come right off–if they don't, put them back under the broiler for a few minutes). Discard the stems and remove the seeds if you prefer a milder sauce (keep them in if you like spicy flavors). Chop the chilies roughly.
Puree the chilies with the rest of the ingredients in a blender or food processor. Sauce will keep for up to 5 days, sealed in an airtight container.
Makes about 1 1/2 cups sauce