Photos taken by Daniel Sullivan Jr. Instagram: @dsulliphoto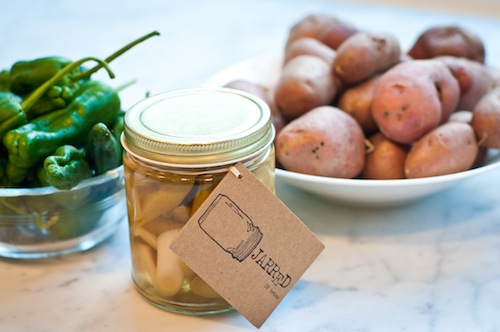 Emiliana Puyana from Jarred SF Brine aims to positively impact the world through tasty, crunchy pickles. After growing up in Venezuela, Emiliana pursued her love of food by attending the Culinary Institute of America in New York. Now she has created Jarred SF Brine, a pickle business that operates out of La Cocina using local and sustainable fruits and vegetables picked at the peak of their seasons.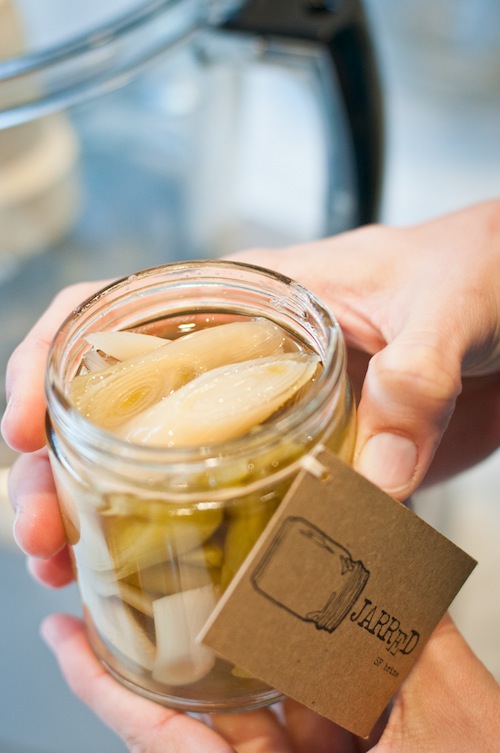 Before talking with Emiliana, we didn't know much about cooking with pickles. Pickles are usually eaten straight out of the jar, right? Thankfully Emiliana has a wealth of knowledge about easy ways to pep up everything from salads to cocktails using her delicious creations. She offered the inspiration for this recipe and has many more ideas to give. Check out the recipe page of her website, or better yet, stop by her stand at MCM this thursday to taste her pickles and ask for some inspiration on how to cook with them.
This Pickled Spring Garlic Dressing recipe can be used in endless ways–try it as a seafood marinade or for dipping artichokes. We decided to roast Fingerling Potatoes from Happy Boy Farms thanks to their buttery texture and thin skin which doesn't need to be peeled. For a little smokey spice, we added Padron Peppers from Blue House Farm. You can find the full recipe after the jump. 
To make this recipe you will need:
1 jar of Jarred Pickled Spring Garlic (reserve the brine!!!)
2 lb Fingerling Potatoes
1 Punnet of Padron Peppers
1/2 c. Extra Virgin Olive Oil (for Dressing)
3 tbls. of Extra Virgin Olive Oil (for Potatoes and Peppers)
Salt and Pepper to Taste
Instructions:
– Heat oven to 500ºF
– Place the pickled Spring Garlic and 1/2 of the brine in a food processor or blender. Season with a little salt and pepper and begin to blend.
– While blending slowly add 1/2 c. of olive oil. Once smooth, taste the mixture and add more brine, salt or pepper as necessary.
– Cut potatoes in half length-wise and toss in a large bowl with 2 tbls. of Olive Oil. Arrange in a single layer on baking sheet. Potatoes will bake for 30-35 minutes.
– At 15 minutes, toss Padron Peppers in 1 tbls. of Olive Oil and add them to the baking sheet. Gently shake pan once or twice while roasting to allow Potatoes and Peppers to turn.
– When finished, Potatoes should be golden on the outside and easily pierced with a fork. Peppers should be browned and soft.
– Remove pan from oven, spoon cooked veggies into a mixing bowl and add 1/2 c. of prepared dressing. Mix until everything is well coated and add more dressing as needed.
– Serve hot and offer extra dressing on the side. Enjoy!