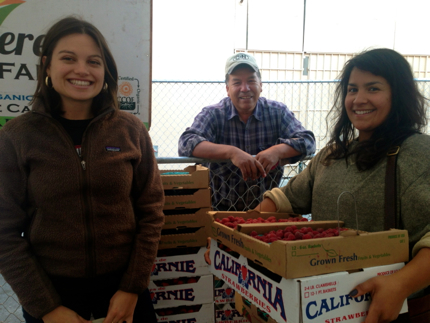 The sassy duo behind the organic, seasonal pies from Three Babes Bakeshop were spotted shopping at the market last Thursday. They picked up delicious berries from Yerena Farms (above) and sugar pie pumpkins from Blue House Farm (below).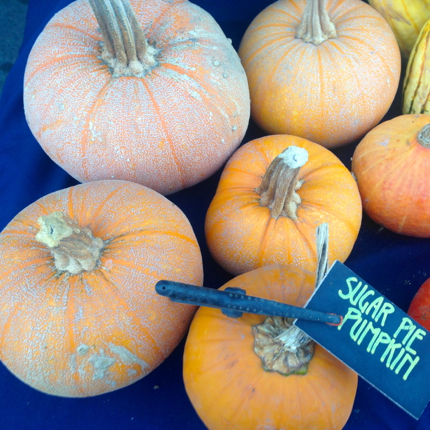 Anna and Lenore can be found shopping at Mission Community Market every week – both for their pie business and to buy groceries for their apartment. They love that they get to see many of their friends from the SF food community there. They have been buying fruit from Poli and Sylvia Yerena since they launched their business, and are so impressed with Yerena Farms' delicious berries all year round that they usually source all their berries from them. Lenore used to snack on berries meant for their pies, so now they have a rule that every Thursday she comes to MCM and buys her own personal flat of berries so that she can eat as many as she wants! Some of their other favorites at the market include tasty loaves of bread and delicious cookies from Marla Bakery, veggies from Happy Boy Farms, and pickles from Jarred SF Brine.
The berries and pumpkins Three Babes procured at the market are seasonal fillings for their amazingly flakey pie crust. Two of their favorite fall pies are pluot blackberry and pear raspberry.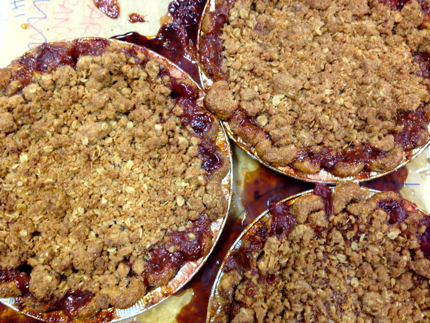 With Thanksgiving around the corner, sugar pie pumpkin is very popular. They split and roast the sugar pie pumpkins and then scoop out and puree the flesh to make tasty pumpkin pies. While summer is their favorite season for pie fillings, fall is a close second with sugar pie pumpkins being at the top of their list!
You can order pies online from Three Babes Bakeshop or through Good Eggs. Get your Thanksgiving orders in and you might enjoy some Mission Community Market produce in your holiday pie this year! The babes can also be found selling their pies at the Ferry Plaza Farmers Market on Saturdays.
Photos courtesy of Three Babes Bakeshop