I am admittedly a tomato fanatic and I can honestly say that there are very few things that I look forward to more about summer than ripe tomatoes. Every week I fill my basket with at least a couple pounds of beautifully colored, sweet, juicy tomatoes. But even so, they only last a few days in my household. I just can't help myself.
Today I'm going to share my go-to bruschetta recipe which is one of my favorite tomato recipes. If you have seen the movie Julie & Julia, you might remember that one of the many mouthwatering cooking scenes involves Julie preparing this dish – which is what gave me the inspiration to make it the first time.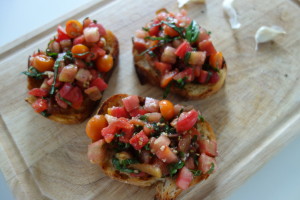 The more colorful tomatoes you use the better. I also like to add some cherry tomatoes in order to have a variety of textures.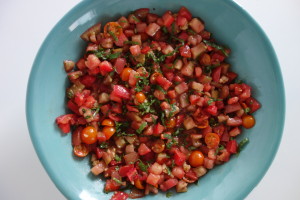 While you could just stick the bread slices in the toaster, toasting them on butter puts this dish over the top.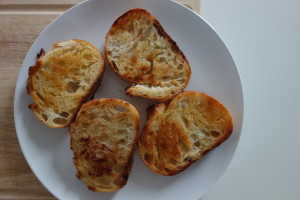 This is a very quick and easy recipe and I hope you'll give it a try!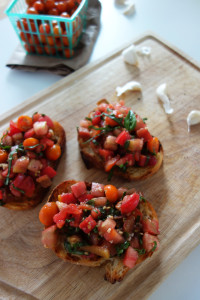 This recipe was adapted from The Pioneer Woman's website:
Ingredients
2 tablespoons + 2 teaspoons olive oil
5 cloves garlic, finely minced
1/2 pint grape tomatoes, halved
5 heirloom tomatoes, diced
1 tablespoon balsamic vinegar
16 fresh basil leaves, chiffonade
salt and pepper to taste
1 baguette/ciabatta
3-4 tablespoons Butter
Preparation
In a small skillet, heat olive oil over medium-high heat. Add garlic and stir, lightly frying for about a minute, removing before the garlic gets too brown. Pour into a mixing bowl and allow to cool slightly.
Add tomatoes, balsamic vinegar, basil, salt, and pepper to the bowl. Toss to combine, taste and adjust basil and salt to your liking.
Cut the baguette into diagonal slices to allow for the most surface area possible. Melt the butter in a large skillet with 2 teaspoons of olive oil to prevent the butter from burning. Grill the bread on both sides, making sure they're nice and buttery. Cook till golden brown on both sides.
To serve, give the tomato mixture a final stir and spoon generously over the slices of bread. While this dish works wonderfully as an appetizer, I often make it the main course of my meal. Happy cooking!