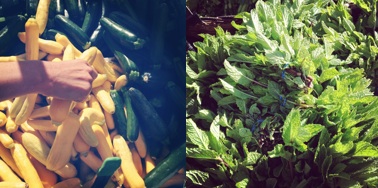 As spring begins to move into summer, more and more vegetables and fruits are popping up at Mission Community Market each Thursday. This past week Tomatero Farm introduced the season's first zucchini and yellow summer squash, while Blue House Farm across the way had bundles of fresh mint… If you've never combined zucchini and mint together, this week's recipe is a must try! The sweetness of the zucchini is highlighted by the mint when sauteed in fresh olive oil. Combined with Home Maid Ravioli's fresh pasta, this dish can be served during spring and summer when the temperature rises and our palates crave cool, sweet flavors.
Linguine with Zucchini and Mint
Ingredients:
4 zucchinis from Tomatero Farm
1 cup of olive oil
4 cloves of garlic, finely chopped
1 bag of fresh pasta from Home Maid Ravioli
3/4 cup fresh mint from Blue House Farm, finely chopped
1 tbs. finely grated fresh lemon zest from lemons at Twin Girls Farm
Juice from 1/2 of the zested lemon
Salt and pepper to taste
Directions:
First, slice the zucchinis very thin, similar to the shape and size of the linguine you will be combining it with.
Heat the cup of oil in a heavy skillet over moderately high heat until hot, but not smoking. Fry the sliced zucchini in three separate batches, stirring occasionally, until soft, pale, and slightly golden (about 3-4 minutes per batch). Transfer the lightly fried zucchini by a slotted spoon to paper towels to absorb excess oil.
Once all of the zucchini has been fried, add the chopped garlic to the remaining oil and slightly brown to infuse the flavor into the oil. Remove skillet from heat.
Cook pasta in a 6-8 quart pot of boiling salted water, uncovered, until al dente. Reserve 1 cup of the cooking water. Drain pasta in a colander and transfer to a large, shallow bowl.
Toss pasta with garlic oil, fried zucchini, mint, zest, lemon juice, salt, and pepper. Add some of the reserved cooking water to moisten if necessary. Continue to salt to taste. Serve with warmed bread from Marla Bakery.