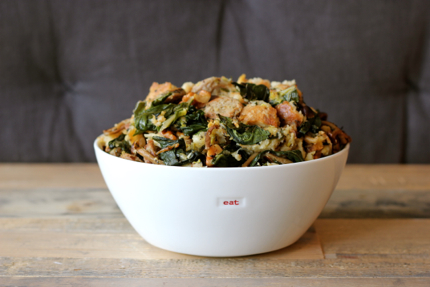 This flavorful chard sausage stuffing makes a hearty side dish at your Thanksgiving table. And it's chock full of amazing ingredients from the market! Like tasty bread from Arizmendi Bakery, sweet and savory chicken apple calvados sausage from 4505 Meats, robust pioppini mushrooms from Far West Fungi, and toasty walnuts from Winters Fruit Tree. Plus look for fresh produce for this dish – swiss chard, leeks, garlic, and herbs – at Blue House Farm and Happy Boy Farms.
This recipe comes together easily and can even be assembled up to a day in advance to save you prep time on Turkey day. It would also work great to bring to a potluck Thanksgiving. So shop at the market this week (your last chance before Thanksgiving!) and try making a new side dish this year.
Chard Sausage Stuffing
Adapted from a Sunset Magazine recipe
Ingredients:
1/2 lb crusty bread (we used a sourdough baguette from Arizmendi Bakery)
1 c milk
1 lb sausage (we used 1 package of chicken apple calvados from 4505 Meats)
2 small leeks, thinly sliced
2 cloves garlic, minced
1 c fresh parsley, chopped
2 c mushrooms (we used pioppini from Far West Fungi)
1 bunch Swiss chard, stems trimmed, coarsely chopped
1/2 c grated parmesan cheese
1 t dried basil (or one handful fresh basil, roughly chopped)
1/4 t dried sage (or approximately 10 fresh sage leaves, chopped)
1/2 c walnuts, toasted and roughly chopped
Salt and pepper to taste
Instructions:
Preheat oven to 350 degrees.
Cut bread into 1/2-in. slices and place in a large bowl with the milk. Mix gently to saturate with milk and let stand about 30 minutes. Stir occasionally.
Slice the sausages into disks and sauté over medium high heat in a large pot, until lightly browned. Add leeks and sauté until slightly wilted. Add garlic, parsley, and mushrooms. Cook, stirring often, until vegetables are lightly browned, 5 to 8 minutes. Add chard and 1/3 cup water and cook, stirring often, until wilted, about 5 minutes.
Squeeze the soaked bread with your hands and break into tiny pieces. Add the cooked meat mixture, parmesan, basil, sage, and walnuts. Stir to combine. Season with salt and pepper to taste. Transfer to an 8×8 inch casserole dish. For moist stuffing, cover with foil. For crusty stuffing, do not cover. Bake until hot (at least 150 degrees in center) or lightly browned, at least 30 minutes.
Tips for making in advance: you can make the stuffing, put in the casserole dish and chill up to 1 day in advance. Allow about 1 hour to bake.
Stuffing photos by Carletta Wong